Independent living of persons with disabilities is a trend in socially developed countries and specialists consider that our country has all the chances to follow it. The main thing is to organize social support properly, to create in local society a complex of services which will give a possibility to "special" people to realize their rights for labour, sufficient living level and will help to organize their life independently.
According to Sergey Drozdovskiy, the project coordinator of the Office for the rights of persons with disabilities, historically every country has its own mechanisms of social protection, which have formed depending on the peculiarities of the country's development.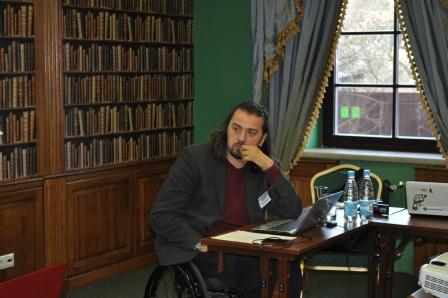 – For example in our country a person with disability was very often settled out: he was put to clinics for an indefinite term, to institutions which later turned into state social institutions. We used to call them boarding houses for disabled. But one of the main problems of persons with disabilities is their isolation from the society and putting a person to such kind of institution is one of the forms of isolation. Disability is not a personal problem based on the peculiarities of a person's health, but a problem of the environment – the society and infrastructure which are not ready to provide this person a descent level of life equal to the level of other citizens.
But there are alternatives for such boarding houses for disabled which are of a segregating type. For example in Denmark such kind of institutions 15 years ago was replaced by rehabilitation on the level of local communities. Such system gives a possibility to choose the best option for every person – to live in usual conditions or to live in conditions of improved social care in a specialized social institution.
We also now have cases in Belarus of social support of persons with disabilities the usage of which in complex can create an alternative to institutional care. Many of them are adopted from other countries and adapted to our reality. Here are some of them.
Accompanied living
Today the main criterion of putting a person to special institution is his inability to live independently. 
– And exactly at that moment people around you know what is "better" for a person with disability. But no one specifies to what extent a person is in need of support – says a specialist in the sphere of social work of public association "Belarusian association of assistance to disabled children and young disabled" Elena Boiko. – For example we consider that a person with mental disabilities and impairment of motor activity is unable to make tea. But try to imagine the algorithm and you will understand that a person with such impairments can take a mug and a tea bag, pour water to a tea pot, turn it on and add sugar. He will need help only in pouring water to the mug. We often think that we have to do everything from the beginning to the end by ourselves. And it is a huge mistake.
You can organize accompanied living for persons with disabilities. This service of social support can be rendered in different volume depending from the needs of a person with disabilities. It is presumed that the support can be either permanent or temporary. It is done individually depending on the level of independence and the need in assistance by persons with disability in fulfilling house, leisure, social and communicative activities.
For example, people with disability and mentally safe who have a somatic disease (diabetes, heart disease, thyroid disease and so on) do not need to be accompanied. At the same time persons with disabilities and severe mental impairments and conditions (autism, severe form of epilepsy) are in need of 24/7 intense social support and care because such clients are not able to care of themselves.
– In the frames of one of our projects we created a dormitory for persons with disabilities. We have done nothing for them but helped and gave advices. We taught them everything: to peel potatoes, how to get to work, how to spend their money – tells the specialist. – This project was a success. Our clients accumulate experience of such living they try to look for their own ways of solving problems, to live an independent life…
Club house: self-government and communication
Another interesting form of social support of persons with disabilities is a rehabilitation model "Club house". Olga Rubchinskaya, the head of Minsk club house "Open soul", a representative of Belarusian association of social workers told that this social service has been created for persons with mental illnesses. Club house gives them a possibility to live outside a hospital, to restore the lost skills, to feel their own importance and to return to active life in the society.
Club house is the place where you can come all the time. Such model provides a member with constant social surrounding, employment and a concrete job.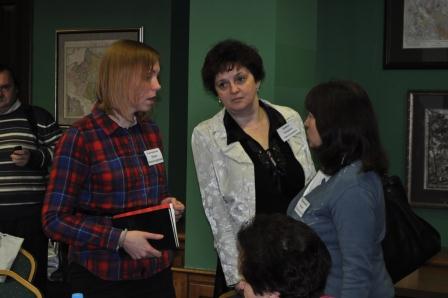 – People come here to calm down – says the specialist. – And also to communicate, because in "outer world" it is very difficult for them to make new connections and the old ones have been lost.
It is a rather convenient model of social support, members (members, but not patients or clients!) of which can participate in all the spheres of activities and they carry responsibility for the Club house. Besides, all the members can take part in the administration process.
First club houses appeared in the middle of the 20th century in USA. Their goal was to improve the quality of life of people who underwent treatment in psychiatric clinics. The positive moment of such social program is that such system is rather cheap if to compare with keeping persons with disabilities in hospitals and institutions: high social effect is reached by small expenses.
Territorial center of social service to population (TCSSP): declarative principle
At the state level in Belarus social support to population is rendered by TCSSPs.
The director of Kobrin TCSSP Tatsiana Boiko told about the services the center offers: non-stationary social service (for example, consultations and informational services, social and pedagogical services, social patronage etc.), home social service (nurses), urgent social service (shelter, legal and financial aid), semi-stationary social service.
In order to get such social support a person has to appeal to TCSSP with a request – written or oral. Such support is rendered free of charge or is paid according to the existing social tariffs.
The abovementioned social technologies cannot become panacea for all the problems. They are effective on conditions that they are included in the system of services accessible for a person with disability at local level. All the range of necessary services and types of assistance consists of special (and still unusual for us) and usual personal services. Very often the impossibility of provision with such services is the main reason of putting a person to an institution.
The abovementioned and many other programs of social support are being realized in Belarus, but such work is fragmentary: initiatives are being realized by different organizations, for different target groups etc. In order to systematize the experience and successful practices of work with persons with disabilities it is necessary to create a topical national program on social support of persons with disabilities.