Press-conference of HR defence and educational institution "Office for the Rights of Persons with Disabilities" took place on December 1, 2011.
The topic of the press-conference was: Alternative report on the conditions of provision and execution of the rights of persons with disabilities in the Republic of Belarus.
Sergei Drozdovskiy, the coordinator of the "Office for the Rights of Persons with Disabilities" was the speaker.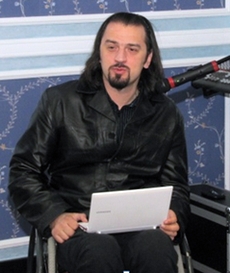 In his statement Sergey Drozdovskiy told about the Office's mission and explained why the Office had prepared the Report "Office – the organization of new generation, the Convention was one of the reasons of its creation. The Office tries to solve the problems in the society in the light of disability. The society is as strong as each of its members is. We are sure, that only full involvement of persons with disabilities into the life of the society can promote the harmonic development of the society and its steady development. The Office is the team of professionals, whose main task is to offer the society a possibility to consider the problem of disability as the problem of human rights. The Office is not the tool of protecting the interests of one social group towards others. We try to solve the problems of disabled relying on human rights. In order to do it we widely use and introduce the methods and tools of studying and encouragement of human rights to the sphere of solving the problems of disability".
Drozdovskiy also explained why the Report was called Alternative: "Alternative report is the way of enhancement of possibilities to look at the problem of disability. The alternative report is literally "second" report, supplementing the report prepared by the authorities. The alternative report offers to look at the problems of disability from the point of view of human rights of persons with disabilities. But at the same time the report strictly adheres to the practices of preparation of reports according with the international obligations in UN system, the recommendations of UN Committee on the Rights of Persons with Disabilities".
You can read the full version of the Alternative Report on the conditions of provision and execution of the rights of persons with disabilities in the Republic of Belarus and with the summary of the document: